Media stories about FOF members and cases
Brian Harris; Arizona veteran missing for 19 months found in California
PRESCOTT VALLEY, Ariz. — Authorities believe they've located the remains of an Arizona veteran who was reported missing 19 months ago out of Prescott Valley.
Brian Harris was last seen alive by his family in July 2021. His vehicle was found abandoned a couple of months later near Needles, Calif. 
The 38-year-old combat veteran's whereabouts remained a mystery for several months until two organizations teamed up to search the wilderness areas around where Harris' car was left. 
Before he disappeared, Harris asked his family if they wanted to go camping. They advised Harris they could all go camping at a later time but he then left home without leaving behind any sign of where he may have gone. 
Read more about Brian's story by following this link.
Found: Rosario 'Chata' Garcia
The Fowler-O'Sullivan Foundation partnered with Western States Aerial Search to locate the remains of Rosario 'Chata' Garcia on January 24, 2021. Garcia, a 73-year-old woman who was married for over 51 years to a Vietnam veteran was the life of the party, loved to dance, and made friends easily everywhere she went. Our foundation sends our deepest condolences to her children and grandchildren as they take this time to grieve.
You can read more in the Idyllwild Town Crier.
Searches continue for Sally Fowler's son each year, but stop during the winter due to the weather conditions. A Facebook group Bring Kris Fowler/Sherpa home was created to spread information and updates. But Sally said it has also led to a bond between herself and other families of missing hikers.
"It's a silver lining that came from a very terrible tragedy," Sally said. "There's a whole community dedicated to finding these hikers, but also to help prevent it in the future."

Read More
Volunteer Search for Kris Fowler
By Luke Thompson with the Yakima Herald.
"Kris Fowler's story and the relentless efforts of his family, especially stepmother Sally Guyton Fowler, to raise awareness struck a chord with thousands, including Andrea Kirkman. She and her husband, Josh, will welcome any and all volunteers for a renewed search next weekend in the hopes of uncovering more clues and perhaps finding some long-awaited closure for the Fowler family.
Andrea Kirkman, an avid hunter from Stanwood, first learned of Fowler from the Pacific Crest Trail Facebook page soon after his disappearance last October. She continued following online as massive search efforts turned up little evidence as to what kept Fowler from finishing the famous trail after he had conquered more than 2,000 miles" Read more about the FOF members involved.
Cathy and I walked from the parking lot up a dirt road to the Sawmill Trailhead. In the trail register, we found a missing person flyer and a note written by members of Garcia's family. The desert terrain was mostly boulders, cactus, and brush. There were no tall trees and we saw large patches of open ground. Past experience told us this was a good environment to conduct a grid search by drone. Garcia was elderly and walked with a cane. She went missing in July. The daytime temperatures would have been extreme. She's here, we both thought as we walked back to our cars, we can find her.
Finding Chata
Rosario "Chata" Garcia was a warm, friendly person but, during the summer of 2020, her family had noticed a change. The loving grandmother was now forgetting things that happened only five minutes earlier. One weekend, while visiting out-of-town family, Chata left her hotel room and couldn't find her way back. "She was in the parking lot," her daughter, Maggie Garcia Zavala, said in a story published by the Desert Sun.  "She didn't know what she was doing there … and she was crying." 
Like many of us, the seventy-three-year-old from Hemet, California was feeling cooped up and isolated during the pandemic.  Rosario Garcia was married for over 51 years to a Vietnam veteran. She loved to dance and made friends easily everywhere she went.  A few days after the incident at the hotel, on July 7, 2020, Chata left home in her silver 2016 Nissan Sentra to visit a friend. When she didn't return home that night, her family reported her missing. 
Two days later, a hiker found Garcia's silver Sentra high centered on a rock on a rugged dirt road near the Sawmill Trailhead in Ribbonwood, forty-one miles from her home.  The car keys and Chata's purse were gone. County authorities searched for several days using ATVs, aircraft, and bloodhounds but they couldn't find Chata.
Garcia's friends and family searched for her as well. They posted flyers and pleaded for help on Facebook.  "I just want answers. I just want to make sure that she's OK," Garcia's daughter told reporter Sherry Barkas.
Thousands of miles away, in Pennsylvania, Cathy Tarr (57) was having a bad summer. On August 23, two weeks before a surgeon would remove several cancerous tumors from Cathy's breast, something even more horrible happened. Her sister, her niece, and a family friend were stabbed, beaten, and bitten by the niece's an ex-boyfriend­–a mentally unstable man who violated a restraining order and broke into their home carrying a dagger and a baseball bat.  
Miraculously, they all survived the brutal assault.  But Cathy's younger sister had been stabbed in the throat and needed multiple surgeries to repair the damage. The task of cleaning up the crime scene fell upon Cathy.  "It was a horrific attack, as you can tell from looking at all of this," she told a reporter as they walked through her sister's blood-spattered apartment, "I want you to see this because it shouldn't have happened."
Before and after her own surgery, Cathy searched for a new, safe place for her family to live. On top of this, there was the pandemic. One day, the stress of it all became too much. Cathy lost it, briefly, when she noticed her closet was full of coat hangers that weren't all the same color. Inexplicably, this caused her to break down and cry. 
Normally optimistic, Cathy tends to bulldoze her way through setbacks. The retired manager for Walgreens had spent the better part of the last three years searching for two hikers still missing from the Pacific Crest Trail—Kris Fowler and David O'Sullivan. Undeterred by her failure to find them, Cathy created a nonprofit in honor of Kris and David. Cathy wanted the Fowler-O'Sullivan Foundation (FOF) to help families of missing hikers, and her ambitions for how she could do that were limitless. But, after the assault on her family and the cancer diagnosis, Cathy had to set this dream aside. 
I'm writing a book featuring Cathy's search for Fowler and O'Sullivan. In October 2020, I met with her in Idyllwild, California to discuss how her work was going and the future of the foundation. I worried about Cathy. She was still sore from her surgery and exhausted by all that had happened. I feared that without Cathy's energy and leadership our newly formed foundation might collapse. 
The next morning, Cathy showed me a story she had read in the local newspaper. In 2020, four people went missing near Idyllwild, a small mountain village in Southern California. The local authorities had not been able to find them. To take Cathy's mind off all her troubles back in Pennsylvania, I suggested we scout the last known points of two of those cases, to see if there was any way we could help.  One of the sites we chose to visit was the Sawmill Trailhead, where Rosario Garcia's car was found.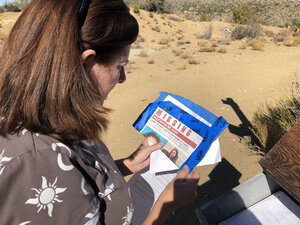 Cathy and I walked from the parking lot up a dirt road to the Sawmill Trailhead. In the trail register, we found a missing person flyer and a note written by members of Garcia's family. The desert terrain was mostly boulders, cactus, and brush. There were no tall trees and we saw large patches of open ground. Past experience told us this was a good environment to conduct a grid search by drone. Garcia was elderly and walked with a cane. She went missing in July. The daytime temperatures would have been extreme. She's here, we both thought as we walked back to our cars, we can find her.  
She's here. We can find her. 
As I had hoped, our scouting expedition reenergized Cathy. A month later, she returned to the site with Pam Coronado, another board member of FOF.  Pam scratched up her new SUV while driving up the rugged road. When they reached the point where Garcia's car was found high-centered on a rock. Cathy pinned the coordinates on the Gaia app on her phone. The women searched for a while on foot, battling cactus the entire time. When they decided to leave, Pam felt sad to think of someone's mother lost out there all alone. 
In 1999, Professor Pauline Boss pioneered the term ambiguous loss to describe the "frozen grief" suffered by "not knowing if a loved one is absent or present, dead or alive." This type of grief is the hardest to bear. Loved ones of missing people suffer from ambiguous loss. So do the families of people with dementia. 
"Her family probably believes no one cares," Cathy said later. "I really want to help them."  But search efforts conducted by well-intentioned amateurs can raise a family's expectations too high. Then, when the missing person isn't found, all their hopes are dashed upon the rocks. Considering how our efforts might negatively impact Garcia's family, Cathy decided FOF's first search would be conducted quietly. That way, if her team failed, no one would be hurt. 
"Her family probably believes no one cares. I really want to help them."  Cathy Tarr
When planning an aerial search for human remains, you can't just call up any guy with a drone. Cathy had learned this the hard way during her years looking for O'Sullivan, who went missing in the San Jacinto Mountains north of Idyllwild in 2017. A successful drone search requires skilled operators who know how to capture high resolution images while flying precise grids. You also need a patient and persistent team of image scanners who are willing to spend their free time searching thousands of photographs for clues. Fortunately, Cathy knew the right people with the right skills for the job. She scheduled the search for a weekend in January 2021.
Thursday, four drone pilots with Western States Aerial Search (WSAS) drove eleven hours from their home state of Utah to Southern California.  Their leader, Greg Nuckols, had recently obtained nonprofit status for WSAS. Cathy had worked with Greg before. Over the years she had watched his team perfect their technique. In the last twelve months, WSAS pilots had obtained images that led to the resolution of two missing hiker cases. 
Like Cathy's nonprofit, WSAS never charges families of the missing for anything. And they do not accept rewards. Cathy booked the drone pilots an Airbnb and paid for their travel expenses using funds donated to the Fowler-O'Sullivan Foundation. Theresa Sturkie, the wife of a missing man Cathy helped find in 2019, cooked meals.
During the day, the pilots flew their drones over the area surrounding the road where Garcia's car was found. At night, they downloaded thousands of high-quality images into their laptops. One pilot had to be at work Monday morning. The drone team drove all night Sunday and didn't get home until very late. 
Once the photographs were uploaded, it was time for the image scanners to do their work. On Sunday evening, Cathy sent her team a link to the high resolution image files. 
Morgan Clements CEO of GlobalIncidentMap.com was up late. Right away, he began a cursory search of the thumbnails to see which photos spoke to him. It was the first step in a tedious process Morgan had done before. In 2018 and 2019, he searched over 3,000 aerial images looking for O'Sullivan. In 2019, he squinted at hundreds of images before he found the bones of Paul Miller, a hiker who went missing in Joshua Tree.
At the start of his search for Rosario, Morgan took a moment to ask Mrs. Garcia to guide him to the right image.
At the start of his search for Rosario, Morgan took a moment to ask Mrs. Garcia to guide him to the right image. The quality of the WSAS photographs were impressive. Morgan could pick out items as small as a rusted tin can and individual blades of agave. He had already scanned over a hundred images when he spotted some clothing. He shared this photo with the FOF image search team under the caption "possible blue clothing, next to striped purse, on sloped ground."  In Missouri, where Morgan lived, it was nearly midnight.
The next morning, Cathy woke up early. As soon as she saw the photo Morgan posted, she texted me, "Almost positive we found Garcia." Then she called Greg.  Using the coordinates from the image with the clothing, Greg found more photographs from the same area. These images, taken from a different angle, left no doubt. Working together, WSAS and FOF had found human remains within 500 feet of where Garcia's car was discovered.  
Cathy reported this to the authorities. A few hours later, she led a convoy of law enforcement officers to the site.  It had snowed the night before and the dirt road was wet. The deputy driving the front car got stuck in the mud. Cathy encouraged him to keep going. But more bad weather was on the way and snow covered the ground. The site was too difficult to reach in these conditions.
When the weather cleared, Riverside County was able to retrieve the remains and the coroner soon confirmed they belonged to Rosario Garcia. They saw no evidence of foul play.  In one  news report on the case, Riverside County sheriff's Sgt. James Burton told reporters "trekkers" had spotted the remains.
In reality, the FOF search for Rosario Garcia was a professionally organized mission involving a dozen experienced volunteers, specialized equipment worth thousands of dollars, and hundreds of hours of time. "We are constantly training and improving our technique," Greg Nuckols says of WSAS. "We're passionate about the work.  Our goal is to get the absolute best images possible so that folks like Morgan will be able to identify what they are seeing."
Cathy believes FOF's collaboration with WSAS is a "repeatable process" that can help find other missing people. "When official SAR groups lack the means or the funding for a well-coordinated drone mission with reliable image searchers," Cathy says, "we can help."   
"When official SAR groups lack the means or the funding for a well-coordinated drone mission with reliable image searchers, we can help."   Cathy Tarr
For seven months Rosario Garcia's family agonized over the fate of their loved one. Receiving news that a loved one's body has been found is never a good thing. However, if Cathy Tarr hadn't decided to take the case, Chata's family would still be wondering what happened to her. "I call [Cathy] our Angel because she and her crew did something no one else could do," Laura Atencio, Chata's daughter-in-law, posted on Facebook. "That was to find her and bring her home to us."
In addition to the names below we are grateful to all who made this search possible by donating their funds, time, and/or expertise to FOF and WSAS. 
Cathy Tarr, Morgan Clements, Pam Coronado, Andrea Lankford, Theresa Sturkie, Mackenzie Pollard.
Greg Nuckols, James Badham, Justin Holm, Brad Larson.
Mum of lost Irish hiker has high hopes for new search
by Sandra Murphy
"….friends of the family, Paudie O'Neill and Brian Schafer, have set up a fundraising page to help to continue to carry out more searches on the 2,663 mile trail that runs from the United States-Mexico border through California, Oregon, and Washington, where it reaches its northern terminus at the United States-Canada border.
The money will be used to pay for hiring helicopters and paying for supplies that could help track down David on the pathway through the Sierra Nevada and Cascade mountain ranges.
The page which helps a group of volunteers search the woods near Idyllwild at the weekends has already paid for this week's aerial search on Wednesday and Thursday, which will be the biggest one to date." Read More
From The State Hornet 2018: Cathy Tarr and Andrea Lankford, advocates for hikers David O'Sullivan and Chris Sylvia who disappeared from the Pacific Coast Trail on separate occasions in Southern California, said that they hoped the event would help them share information about the disappearances as well as get guidance from law enforcement.
"I want to clarify some issues and make sure Chris Sylvia's DNA is on file," Lankford said. "We want to share new information that we have, and we hope the experts will either share information or tips for us. We also want to get public awareness out about the missing hikers so we can get more tips that can help us solve the mystery."
"I'm hoping there might be something that they can guide us on, that we maybe have overseen or that we didn't think about," Tarr said.
by Claire Morgan, Editor-in-Chief Read Here
During one search in late May, volunteer searcher Cathy Tarr spotted a bloody sock about 100 feet in front of the truck in the direction of mile marker 193 on the Pacific Crest Trail.  Read Story
How the Relentless Searching of Drone Images for Missing Hikers Made of Difference for One Family
The Bone Finders
When Morgan Clements searches for human remains, he starts in the upper left-hand corner of his computer screen. From there, he zooms in. When the image becomes too distorted, he backs off the zoom until items on the ground look just right before scanning the entire photograph (left to right, top to bottom) with his own eyes, searching for clues. He does this thoroughly, as if it were his own loved one who went missing in the wilderness. It can take as long as 45 minutes to search one image. Those who search aerial photography for evidence of a missing person must endure a high rate of failure. Indeed, by December 2019, Morgan had reviewed nearly 4000 aerial images without finding a single soul.
Morgan belongs to a small team of volunteer searchers led by Cathy Tarr to find David O'Sullivan, a 25-year-old backpacker who disappeared while trekking the Pacific Crest Trail in Southern California on April 7, 2017.  Tarr's volunteers are optimistic, hard-working, and dedicated individuals, all driven to help families of missing hikers. But they had spent two years searching over 5,000 aerial and satellite photographs for signs of O'Sullivan with no success. By December 2019, the process had begun to wear them down. And Morgan Clements was burned out on image searching.
"I was tired of looking at the same real estate over and over again," he says, "with good but not great imagery." Too many times he believed he'd found a bone, or a backpack, or a tent belonging to O'Sullivan only to be deflated once ground searchers hiked in to his coordinates and discovered the bone was a stick, the backpack was a rock, and the tent was a tarp abandoned by illegal marijuana cultivators.   
Searching thousands of aerial images for evidence of a missing person is a tedious, headache-inducing process that frustrates Morgan so much his wife often hears him cursing at his computer. But Greg Nuckolls, founder of Western States Aerial Search, would say that a drone operator's job isn't any easier. To conduct a thorough search, drones must be programmed to fly a precise grid at the proper altitude while contending with variable terrain, thick vegetation, wind, fog, shadows, hauling heavy equipment to remote locations, and a short battery life. Another barrier to using drones to find the missing are regulations against flying unmanned aircraft within national parks and wilderness areas, the locations where most hikers disappear. 
"It has been a tough journey. Waiting. Waiting. Waiting."

— Stephanie Miller to The Palm Springs Desert Sun
On July 13, 2018, Paul Miller (51) told his wife he was going to take a short walk inside Joshua Tree National Park. He brought a hydration backpack and a camera bag with him, but left his cell phone in the hotel room. When he failed to return in time to for them to check out, his wife, Stephanie, reported him missing. That day, park rangers found Miller's car at a trailhead. Hundreds of people, volunteers, professional searchers, six search dogs, and a helicopter crew spent 6,000 hours scouring the park for the Canadian.  Seventeen months later, Miller was still missing and his family continued to suffer all the emotional and financial hardships that come with not knowing what happened to him. 
In late 2019, with the blessing of Paul Miller's family, the National Park Service made a rare exception to their no drone policy by issuing a permit to a nonprofit organization, Western States Aerial Search, allowing Greg Nuckolls to organize a drone search operation within the park.  In one weekend, Nuckolls's team captured 6,700 images of the ground in the area where Miller's car was found. Weeks later, only 15 percent of these images had been searched.
An effective drone search requires much more than a guy with a drone. You need skilled drone operators with experience in search. You need a group of methodical image scanners. And you need people on the ground willing to hike off trail to rule out compelling items seen in the images. If your operation lacks one of these components, you are basically wasting your time. Although Cathy Tarr ensures she has people lined up for all three tasks for the aerial image searches she coordinates, Morgan worried. Would the Joshua Tree rangers and SAR volunteers have the same level of patience?
When Nuckolls requested help from Tarr's group. Morgan verbalized these concerns via their Facebook group. Why commit to more mindless image scanning, he wondered, especially if there are no ground searchers willing to follow up on leads?  Hesitant to commit so much time and effort to another missing hiker case, he reluctantly agreed to search a few random images from the thousands listed on a spreadsheet compiled by volunteer Gloria Boyd.
"Why commit to more mindless image scanning? Especially if there are no ground searchers willing to follow up on leads?"
Categorization can provide a strange comfort. In 2001, the tragedy of 9/11 triggered in Morgan a proclivity to map worldwide occurrences of terrorist activity. Over time, this peculiar hobby became a business. Today GlobalIncidentMap.com tracks many scary things—incidents of terrorism, disease outbreaks, human trafficking, and natural disasters. Impressed by his work, agencies within the military and the federal government have contracted Morgan's services. His maps also have an aesthetic appeal. In 2008, the Museum of Modern Art (MOMA) in New York City displayed one in an exhibit. By then, Morgan's hobby-turned-business had grown to the point he told a reporter that he sat in front of eight computers in his basement in Missouri and made maps for "people who don't want to have their heads stuck in the sand." 
Morgan's sense of humor runs cynical. But I suspect there's an idealism lurking within. Today GlobalIncidentMap.com has moved out of Morgan's basement and employs people all around the globe. Maybe just maybe, if Morgan's company maps every incident of violence and horror in the world we can use that information to prevent it. This soft spot for humanity reveals itself most through Morgan's pro bono efforts to help families of the missing.
The white thing was a thin stick with a knob at each end.
It looked like a bone.
Had they solved the case?
On 12/15/2019, Morgan had viewed over 100 images from the Paul Miller case when something in file PM_JTNP_P2_Z3_F2 (435) caught his attention. A stark white object lying on a patch of beige ground. Zooming in, the resolution faded as Morgan's pulse quickened. The white thing was a thin stick with a knob at each end. It looked like a bone.
For validation, he sent a low resolution copy of PM_JTNP_P2_Z3_F2 (435)  to two women. A nurse with training in human anatomy and an experienced image searcher. The nurse said, yes, the white thing appeared to be a bone, perhaps a femur, but the quality of the photograph was too poor for her to determine the species. Volunteer Sarah Francis pulled up drone photographs of the same area taken from different angles. She soon found more white things that looked like bones and located a round object that resembled a metal rim of a car wheel.
She sent a screenshot of of the "car wheel" to Morgan.
It's not a wheel, Morgan told Sarah. It's a hydration backpack propped up by the shoulder straps in a way that makes it look round. 
Paul Miller had a hydration pack with him! 
Had they solved the case?  
Morgan and Sarah would have been more excited, but years of experience kept their hopes in check. The  "hydration pack"  that looked like a wheel could be a rock.  The "bones" might belong to a cow. 
Morgan posted the GPS location of the possible femur bone to the group's spreadsheet then he and Sarah moved on to the next images on their spreadsheet.
Days later, Morgan learned that Greg Nuckolls had immediately sent those GPS coordinates to the Joshua Tree park rangers who hiked in to the site the next day and found human remains. They also found a camera bag, bits of clothing, and a hydration backpack leaning up against a rock. The official determination was weeks away, but there was little doubt. The bone Morgan spotted in the aerial image belonged to Paul Miller.
While initial searchers on the ground had been within 30 meters of Miller's body several times and missed him, a three-pronged approach—skilled drone pilots, disciplined image searchers, dedicated folks on the ground willing to check out leads—found Paul Miller 18 months after he disappeared.
After so much heart break and frustration, the years Morgan and others had spent searching aerial images for missing hikers finally helped one grieving family.  Officials were unable to determine exact cause of death, but they believe it was unsuspicious and quick. Perhaps a heart attack or heat stroke. Morgan heard Miller's family had received news of the discovery a few days before Christmas, and, although painfully bittersweet, the finding of Miller seemed like the best Christmas present ever.
Using software to search drone images for human remains may be faster, but Morgan believes humans do it better. On the O'Sullivan case, human eyes detected many items of interest a computer program missed. "The human brain is especially good at recognizing patterns of importance," Morgan says. "Can you teach software to use intuition? Nope. Does software know to look specifically at the bottom of fall zones, or in shaded areas where a human might have sought shelter? Maybe someday, but we just aren't there yet. (The software) will improve over time, but for now, if I am missing, I want humans looking for me."  
One case has been solved but there are more families still desperate for answers. So, after making a difference for Miller's family, Morgan returned his computer screen. He may be there now, staring at his lap top. He clicks one image file of thousands, scrolls to the upper left corner and zooms in as close as he can. Then he begins to search, scanning from left to right, top to bottom, seeking the one clue that might end someone's torment of not knowing.  
© Andrea Lankford
"Miller's sister, Dawne Robinson, told The Desert Sun that without the images from a drone – flown over the area in November by the Utah-based nonprofit organization, Western States Aerial Search – it's hard to know how much longer the remains may have gone undiscovered"
— The Desert Sun
Social media can be an amazing tool for missing person investigations. Even when the happy ending isn't the one you hoped for.
The Man In Brazil
In December 2016, Sally Fowler was home sick when her nephew, Jimmy, sent her a picture he'd seen on Facebook–a photograph of a guy in his thirties from the abdomen up. The man appeared to be unconscious. A white sheet was pulled tightly across his bare chest. He had a full beard, blonde hair and a nice face. Sally's heart raced. This man looked like her son and he was strapped to a hospital bed in Brazil.
Sally's heart raced. This man looked like her son and he was strapped to a hospital bed in Brazil.
Other families hoped the man in Brazil was their son as well. A mother in Scotland. A family in Germany. Eventually, those cases were ruled out. Sally sent the photograph to Kris' ex-wife. "I can't say it's not him," she replied. The young man was the right height and the right age. His eyes were blue. He spoke English. 
But Sally needed to know one more thing. Did he have a tattoo on his back? For some reason this simple question was difficult for the Brazilian authorities to answer. The language barrier didn't help.
Sally requested assistance from Morgan Clements in Missouri. Morgan compared photos of the guy in Brazil to photos of Kris. He couldn't rule out the possibility the man in the photograph was Sally's son. He found news articles in Portuguese detailing the events leading up to the man's hospitalization. He had been robbed and beaten. He had no papers on him. He appeared to have had a mental breakdown. 
The scenario fit because Kris Fowler expressed interest in Woofing in Costa Rica before he disappeared. Woofing comes from WWOOF–World Wide Opportunities in Organic Farming. WWOOF is a loose network of organizations offering homestay farming opportunities. It seemed possible Kris had lost it somehow and ended up in Brazil.
Translating the news articles into English was frustrating for Morgan. So he contacted a Brazilian thru-hiker he met when he hiked part of the PCT in 2016. 
The female thru-hiker spoke the local language and understood the culture. She was incredibly generous with her time and efforts. When her many phone calls reached a dead end, she drove eight hours from her home to see him in the hospital. 
Sally called Cpl. Ellis Nale, a Sheriff's deputy who worked the Kris Fowler search in Kittitas County, Washington. Nale notified a government official in D.C. and that person contacted the American Embassy in Brazil.
At the hospital, Morgan's friend confirmed that the man in the photograph spoke English. He was either American or Canadian. There was no tattoo on his back. He wasn't Kris.
Soon after, a helpful man from the American Embassy called Sally. This may not be my son, Sally told him, but he belongs to somebody and they are looking for him. She sent him the photo she'd seen on Facebook. He may be from Canada, Sally added. 
Right away, the American official in Brazil walked over to the Canadian Embassy. They soon determined the man's identity—Anton Pilipa, a 39-year-old Canadian who suffered from schizophrenia and had been missing since 2012. When he was well Anton worked for humanization relief organizations. But his illness got the better of him one day and he was arrested. To avoid his court date, he fled the country. With no passport and little money, he traveled from Canada to Brazil–a 10,000 mile journey–by walking and hitch-hiking. 
Anton's family searched for years until they hit a wall. "I told myself he was dead," Stefan Pilipa, Anton's brother, told a reporter. "Because that was the only thing I could come up with (to explain) his absence." 
"I told myself he was dead," Stefan Pilipa, Anton's brother, told a reporter. "Because that was the only thing I could come up with (to explain) his absence." 
Before authorities could act, Anton escaped the hospital but an astute police officer in Brazil recognized Anton needed help and he was soon reunited with his family.
There are many news stories about Anton's incredible journey, but few recognize the role Morgan and Sally played in piecing together the puzzle. These two aren't the type who want recognition. The truth is this: A few days after Sally first saw Anton Pilipa's photo, Kris Fowler remained missing, but another mystery was solved. 
"If used properly, isn't Facebook amazing?" Sally posted on the Bring Kris Fowler/Sherpa Home group. "Without it, this man would still be missing from his family. Without it, we would not have most of the info about Kris that we have today. Without it, we would not have so much support from all of you. So happy that something good has come from all of this. I didn't sleep a wink for two solid days (since) this Brazil sighting started. It was all worth it. Happy endings are possible!" 
by Andrea Lankford
Sally Fowler's advice to Pacific Crest Thru-hikers
Tips From A Mother
Hello all…My name is Sally, and my son, Sherpa, is a missing hiker from the awesome PCT Class of 2016. You will see me on here saying Mom things from time to time.  Please know, I only have your well-being and your family's in mind. 
Time grows closer for many of you to get started on, what I hope, is an amazing journey! I wish you a safe and fulfilling experience! As a hiker's Mom on the receiving end of a worst case scenario, I cannot help but offer reminders of safety.  Though they might be redundant, I feel the need to say them again! 
"Please don't get annoyed…I'm a Mom
just keepin' it real."
— Sally Fowler, Sherpa's Mom
Hopefully, you have decided to carry a SPOT, inReach or whatever GPS device you find fits your needs and have left instructions behind if you need to call for help.
Another piece of advice that is tough to hear (not meant to scare anyone) is to be a responsible adult.  Think about getting a Will made, appoint a medical power of attorney, a Living Will, and what your wishes are for eternity if the worst case scenario happens.
Very tough to talk about or think about, but may I remind you, you are heading into nature and rough terrain.
Things happen!
This is not only for your sake, but for the sake of those left to make decisions for you and to clean up what you leave behind.
With privacy and HIPPA laws, your parents, sibling, spouse, or significant other can't always get information easily or make decisions for you medically.
None of us are immune to these possibilities. If you think life is hard,  you haven't cleaned up a death. Death is messy for those left behind to take care of things. Just take the steps needed in advance.
You can look this stuff up online and do it for free. Make out a Will, even if you don't own anything except your hiking gear! You need to state a beneficiary.
"If you are capable of planning a five month, 2650 mile hike, you are capable of taking care of these adult things, even if it is in a simple format inside an envelope no one ever has to open."
— Sally Fowler
ONE MORE THING,
CALL OR TEXT HOME!
Come up with a "in case you don't hear from me in 2 weeks plan." Pick a friend or family member to respond if you aren't heard from within a predesignated time frame.
I know my "invincible" son, Sherpa, wouldn't have taken all of this advice…some of it probably, but not all of it. Afterall, as he reminded me, he was a grown ass man. I just wish he would have thought of doing some of these things.
Kris is proof…bad things happen to good, experienced people. When he started in So Cal on May 8, 2016, he had no idea or intention of going missing in October in Washington and neither should you.
Just be prepared. 
I wish you an amazing journey. I can't wait to see the awesome pictures of the incredible views and dirty smiling hikers! Be safe. Have a blast, take care of these things and don't think about them anymore! Love to all the hikers!  
Signed….Sherpa's Mom. — with Kris Fowler.
PS: WHEN YOU GET TO WASHINGTON STATE…PLEASE KEEP AN EYE OUT FOR MY KID. HE WOULD WANT TO BE FOUND. THANKS, SALLY
Tips for Thru-hikers
None of this is designed to make you feel any type of "conforming to society" or to be bogged down by rules. Instead, it is meant to possibly save your life and protect the safety of SAR teams and fellow hikers by limiting the search area if, God forbid, you need rescuing. Please know, it will be fellow hikers risking it all to look for you, so make it as easy as possible for them to find you….for them and for YOU. 
*Please sign all the books/registers along the way. This is for your safety, and to me, is a badge of honor to be in those log books. If you go missing, it will help to narrow the search.
*Please leave family members your itinerary, and if you shipped supply packages out, please leave a list of addresses, the ETA and phone numbers to each place you have shipped them to.
*Leave behind a list and pictures of your gear to include colors and name brands. Also include the type of phone you have, the color and who your cell phone provider is. 
*Tell someone how you are navigating. Half mile maps, an App., etc. It will help to know what you are using if they have to look for you. 
*Tell someone back home your trail name. 
*In a sealed envelope, leave all of your passwords to your phone, computers, etc., including your Google account in case your phone needs tracked. Also include bank accounts and passwords so someone can check to see if and where you have had any activity if you go missing. 
Subscribe to our newsletter
Sign up with your email address to receive news and updates.